Ecosystems serve as the new engine for Shanghai business parks
Shanghai business park market analysis and forecast
Shanghai, 25 Sep 2020 - With over 30 years of development based on a clear industrial plan, Shanghai business parks have become an essential part of Shanghai's property market. With ample policy support, core business parks, in particular, have attracted top-grade companies, forming specialized industrial clusters. "By providing talent to target industries with suitable physical space fosters city integration, while utilizing policy as a differentiating factor to encourage density and clustering of specialized industries supports industrial gathering, we increasingly witness ecosystems taking root in business parks," said Cathy Huang, Head of Research for JLL East China.
Industrial clusters take shape in core business parks
In March 2020, Shanghai unveiled a plan for 60 km2 of new industrial space and 26 specialized business parks to push forward the development of quality industries. Based on the scale of Shanghai's business parks, industry gathering, infrastructure extension and the latest development plan, JLL has classified the market into five Core Business Parks (Caohejing, Zhangjiang, Jinqiao, Linkong and Shibei) and six Emerging Business Parks.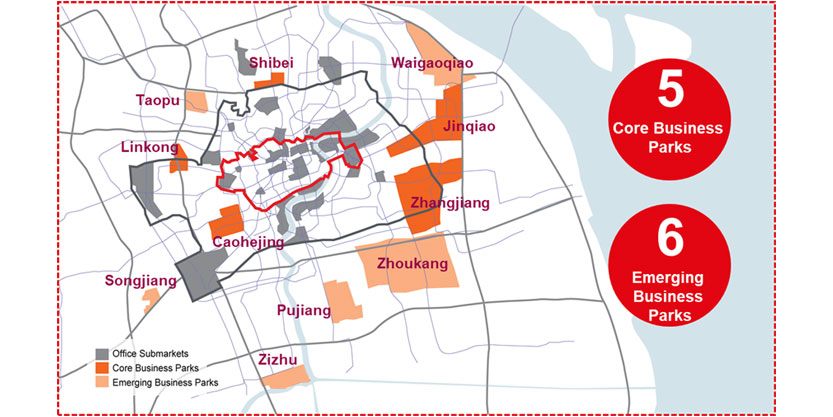 JLL has tracked Shanghai's business park market since 2004. As of 2Q20, total stock in the five core business parks was 8.2 million sqm. In the recent two years, despite an economic slowdown and the impact of COVID-19, vacancy has remained stable at 15%-17%. Meanwhile, new completions entering the market have been able to keep up with demand.
According to JLL's latest tenant survey, companies prioritized industrial gathering when choosing business parks. The other four factors include subsidies, transport and amenities, rent and lease terms, and building quality and specifications. Specialized industrial clusters have been formed in Shanghai's core business parks, especially in Zhangjiang and Caohejing. The diversified companies present there are attracting more firms from strategic emerging industries, helping these BP submarkets contribute to making Shanghai a global science and technology center.
Tech and Healthcare sectors represent majority of demand
The tech sector along with the TMT industry chain have been rapidly expanding, especially upstream sectors like businesses involved in gaming and content app and platform companies. Meanwhile, IT solutions and software and deep-tech companies such as 5G and microchip companies also contributed significantly to demand for business parks.
The share of demand from healthcare and biomedical companies also increased after COVID-19 boosted awareness of this industry. Moreover, unique requirements related to building EIA (Environmental Impact Assessment), research resources in business parks, and more contributed to demand.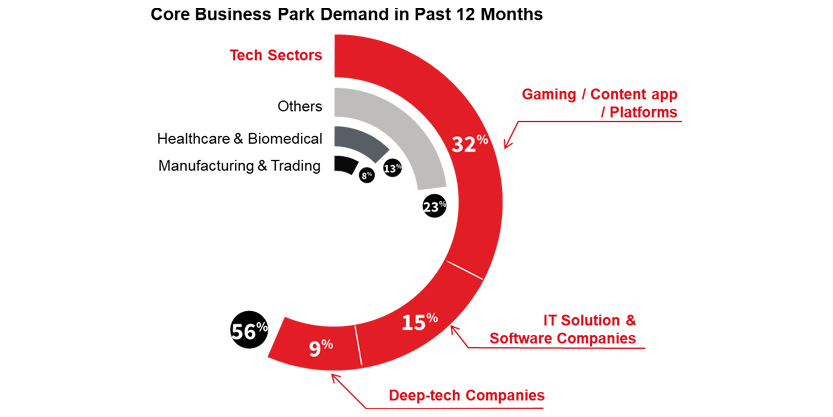 Driven by talent, emerging ecosystems to boost business park development
In Shanghai, around 40% of all STEM and medical schools are located within or in proximity to major business parks. Science and technology companies' increasing need for talent and R&D resources has pushed them to locate near STEM institutions. Companies can leverage the universities' R&D capabilities and resources. Besides, setting up near universities can help companies foster long-term collaboration between universities.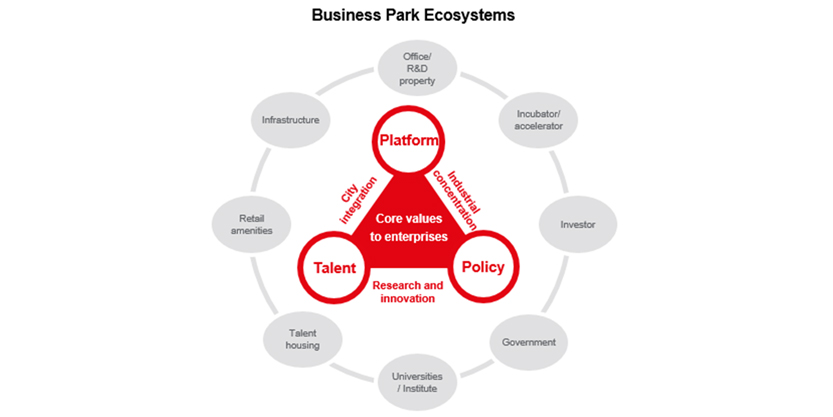 In the long run, various players in the business park sector, such as companies, property owners, government and universities, are expected to jointly form an ecosystem. The function of business parks will expand beyond creating industrial clusters. They also cultivate emerging industries and restructure the industry chain, thereby boosting their own development and generating diversified demand.
---
JLL (NYSE: JLL) is a leading professional services firm that specializes in real estate and investment management. JLL shapes the future of real estate for a better world by using the most advanced technology to create rewarding opportunities, amazing spaces and sustainable real estate solutions for our clients, our people and our communities. JLL is a Fortune 500 company with annual revenue of $18.0 billion in 2019, operations in over 80 countries and a global workforce of nearly 93,000 as of June 30, 2020. JLL is the brand name, and a registered trademark, of Jones Lang LaSalle Incorporated. For further information, visit jll.com.