Dynamic Occupancy Planning
We're transforming how we deliver occupancy solutions by leveraging AI to enable "always on" space optimization and improve human performance in the hybrid workplace
Why now?
74% of employees want to work in the office in some capacity
71% of employees expect more flexible schedules
70% of employees prefer office environments for collaboration
Source: JLL online survey of 2,033 office workers across 10 countries spanning all major industries, October 2020​
Through Dynamic OP, we introduce transformative planning methods like dynamic zones and micro supply/demand management. They are brought to life via three digital elements  –  revolutionary artificial intelligence, powered by GoSpace AI, smart space assignments and utilization data – to effectively manage space and occupancy in hybrid office environments.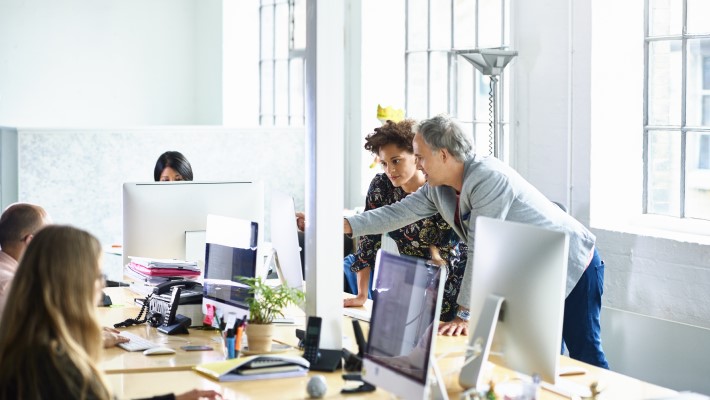 Virtual event: Dynamic occupancy management for the hybrid workplace
Create more efficient and effective workplaces with transformative occupancy planning methods and technologies.
Shaping the future of work for a better world

Technology, sustainability and well-being has accelerated change for enterprises. Work, workforce and workplace, all key to any business strategy is enabled by real estate

5 ways employees now think differently about the workplace

Workforce expectations have shifted significantly in the last year amid a surge in remote working
Benefits
In the re-imagined workplace, the ability to easily connect is essential. When employees book "we space" or "me space" through our reservation management tool, the AI engine is triggered, and "smart" seat assignments will be provided based on usage patterns over time. This removes seat selection guesswork from employees, allowing them to collaborate in-person effortlessly.
There's erratic daily demand for space in hybrid environments. You need to easily and effectively manage over and under-subscription to ensure efficient use of space.
Provides a data-driven, automated method to gather occupant needs, inputs and requirements – lessening manual efforts and reducing chances of error. The process enables cost-effective procurement of trustworthy workpoint and portfolio-level utilization data in real-time to see how spaces are being used.
Through utilization data, pinpoint where you can reduce maintenance and energy costs, and where you can reduce space altogether
Always-on space optimization enables the reduction of cleaning, heating and cooling when space demand drops, decreasing your carbon footprint.
How it works
Employees request a space reservation using our reservation management tool, which triggers the AI engine. A space demand log is created, the AI engine recognizes common needs over time, and assigns space that best fits needs and preferences.
The demand log created by space assignment requests is analyzed through a robust check-in/check out process, providing validated utilization data and accurate insights.
The AI engine turns space reservation and utilization data into "smart" data, enabling planners to efficiently manage and morph zones to match employee needs on a day-to-day basis.
Outcomes you can expect
Create "always on" space optimization
Enhance human performance
Identify opportunities to reduce operating costs
Find out more about Dynamic OP
Dynamic OP helps automate and transform the occupancy planning and management process from beginning to end. No matter where you are on the journey to re-imagine your workplace, we can help you.